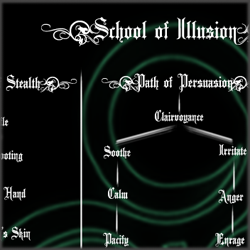 Click here to view the complete School of Illusion spell chart.
The School of Illusion is a course of magical study offered by the Mage College on the island of Akavir. Students engaged in illusion magic have decided to pursue the more persuasive and manipulative forms of arcane practice. Within the School of Illusion there are three different paths that the mage in question may choose to follow: The Path of Stealth, the Path of Persuasion, and the Path of Delirium. The Path of Stealth teaches its students the art of magic induced silence and slight of hand, the Path of Persuasion instructs its students on how to manipulate an individual's base emotions, and lastly, the Path of Delirium, which is the darker of the three paths, teaches its students on how to bend the will and mind's of whoever they see fit. It is not uncommon for mage's dedicated to the Path of Delirium to become consumed, and ultimately destroyed, by their own delirium magic based experimentation. People who train under the School of Illusion are more often than not, the shadier of characters; typically thieves and the like.
Illusion and Proximity
Given the nature of illusion magic, specifically the paths of persuasion and delirium, any spell that is to be cast on another individual must be within close proximity. If the caster can come in direct contact with the person in which they are trying to cast a spell on, than their spell will be at its maximum potency and will be quite hard to resist. Up to a maximum range of two meters, the potency of a desired spell decreases exponentially (in reference to being in direct contact with the target).
Illusion Spells
Path of the Stealth
| Rank | Spell Name | Description | Turns to Cast |
| --- | --- | --- | --- |
| Novice | Muffle | The caster's footsteps are much less audible; even when encumbered. | 1 |
| Apprentice | Silent Footing | The caster's footsteps are almost completely silent; even when encumbered. | 1 |
| Adept | Sleight of Hand | The caster is able to do anything with their hands much quieter and with more grace. Tasks like pickpocketing or placing objects down without making noise become much easier. | 2 |
| Expert | Chameleon's Skin | This spell causes the caster to become translucent. You are still capable of seeing the edges of the caster but they blend into the background. This spell is more effective at far ranges and is very effective if the caster is standing completely still, making them essentially invisible. | 2 |
| Master | Shadow Step | This spell makes the caster's features darken and blurs their outline against the background, blending their shape into the nearby darkness. The caster becomes invisible when enveloped in shadows but when a light is shown upon the caster the spell is nullified making him/her visible once again. | 2 |
| Ascended | Invisibility | This spell makes the caster invisible. They are completely see through and no light may detect or reveal them. This spell consumes mana at an alarming rate for as long as it is active. | 3 |
Path of Persuasion
Rank
Spell Name
Description
Turns to Cast
Novice
Clairvoyance
A spell that returns the desired individual's state of mind to a neutral point of view; neither positive or negative.
1
Apprentice
Soothe
This spell is only effective on the weakest of minds but if successful, will calm the specified target for a short period of time.
1
Irritate
This spell is only effective on the weakest of minds but if successful, will result in a frustrated state of agitation for the affected individual.
1
Adept
Calm
This spell is only effective on weaker minds but if successful, will result in a calmed state of being for the affected individual.
1
Anger
This spell is only effective on weaker minds but if successful, will cause the target to become angered and easily provoked to violent or irrational decisions.
2
Expert
Pacify
This spell works on regular minds and will cause the target to become relaxed and at ease with their surroundings.
2
Enrage
This spell works on regular minds and will drive the target into a state of rage. When under the influence of this spell, characters will react in outwardly aggressive ways and are easily driven to violence.
2
Master
Tranquilize
This spell works on strong willed minds and will result in the target becoming very relaxed with everything around them and, depending on the person, incite calmed social intimacy or sleep.
2
Fury
This spell works on strong willed minds and will drive the target into a state of violent rage. The target's actions become irrational and violent towards anyone and anything nearby without rhyme or reason.
2
Ascended
Alter Mind
This spell grants the caster full control over the target's emotional status. Any emotion (sadness, anger, happiness, etc.) may be brought forth from within the specified target and will be executed to the extremes of the desired emotion. All mana is consumed upon this spell's casting.
3
Path of the Delerium
| Rank | Spell Name | Description | Turns to Cast |
| --- | --- | --- | --- |
| Novice | Peripheral Shadows | This spell causes the target to see shadowy moving objects out from the corner of their eyes. | 1 |
| Apprentice | Whispers | This spell makes the target hear unintelligible but unsettling whispers from inside their mind; consequently, inciting paranoia. | 1 |
| Adept | Voices | This spell causes the target to hear audible voices or shouts from within their own mind. The nature of these voices should prey upon the target's regrets and fears. | 2 |
| Expert | Double Take | If successful, the target will see objects not as they are, such as a Nord's face on an Argonian body, but upon realization of this fact, said object/s will return to their previous normal form. | 2 |
| Master | Hallucinations | Targets under the influence of this spell will see strange things that are not actually present yet seem real. These hallucinations may range from small household objects to entire people. | 2 |
| Ascended | Distort Reality | The target's imagination succumbs to the will and influences of the caster. The target is thrown into a mental dream-like state in which their mental dream-scape (which is subject to the caster's manipulation) seems as though it is actual reality. All mana is consumed upon execution of this spell. | 3 |