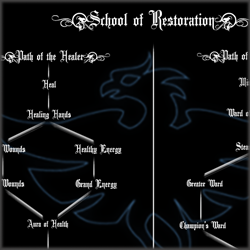 Click here to view the complete School of Restoration spell chart.
The School of Restoration is a course of magical study offered by the Mage College on the island of Akavir. Students practicing the arts of magical restoration are centering their learning experience around the more caring and nurturing of the magic schools taught at the Mage College in Akavir. Within the School of Restoration, students may choose either of it's paths of learning: the Path of the Healer and/or the Path of the Defender. The Path of the Healer will teach it's students the art of helping and healing the wounds of themselves and their friends while the Path of the Defender will teach mages how to protect them and their friends from receiving wounds of both a physical and magical nature from malevolent forces. If a mage finds themselves learning under the School of Restoration, it will become evident that it's paths are aimed towards those willing to heal and protect and students will learn to do such things in a variety of both creative and sophisticated ways.
Execution of Restoration Spells
It is worth noting that restoration spells consume magic at a rate as long the desired spell is active for. In other words, these spells do not operate with "bursts" of consumed mana like those within the School of Destruction but rather consume whatever mana your character possesses at a rate that corresponds to the spells' level of complexity. Due to the nature of these spells, they consume mana at a speedy rate and are often quite straining on the caster; this is especially relevant to those casting spells within the Path of the Defender course of restoration.
Restoration Spells
Path of the Healer
Rank
Spell Name
Description
Turns to Cast
Novice
Heal
The caster is able to heal themselves for minor wounds such as shallow cuts and bruises.
1
Apprentice
Healing Hands
The caster possesses the ability to heal other people for minor wounds that they might have sustained.
1
Adept
Mend Wounds
The caster can heal themselves for wounds such as deep cuts and fractured bones.
2
Healing Energy
The caster can channel their healing energy into the organism of their desire and heal their wounds to the extent of deep cuts and fractured bones.
2
Expert
Close Wounds
The caster can heal themselves for greater wounds such as impalement wounds, internal bleeding, and broken bones.
3
Grand Energy
The caster may channel their healing energy into other people for inflicted wounds to the extent of impalement wounds, internal bleeding, and broken bones.
3
Master
Aura of Health
The caster creates a sphere of healing energy about 3 meters in diameter that radiates out from the caster. Any individual within this sphere's circumference is healed for wounds such as deep cuts and fractured bones.
3
Ascended
Mara's Love
The caster generates a sphere of intense healing energy about 5 meters in diameter that radiates out from the caster. Any individual within the sphere's circumference is healed for even the greatest of wounds. Mana is consumed at an absurd rate when this spell is active.
4
Path of the Defender
Rank
Spell Name
Description
Turns to Cast
Novice
Minor Ward
The caster imbues himself with a temporary ward that allows the possibility for him/her to shrug off minor physical and magical injuries.
1
Apprentice
Ward of Preservation
The caster surrounds himself with a ward that allows for the possibility to reduce the damage that would otherwise result from standard physical and magical attacks.
1
Adept
Steadfast Ward
The caster surrounds himself in an aura of protection that reduces damage from the more forceful of physical blows and magical attacks.
1
Expert
Greater Ward
The caster imbues themselves with a ward that reduces incoming damage from the attacks of noticeably stronger beings and magic.
2
Keeper's Aura
The caster creates a sphere around themself with a diameter of about 3 meters. Everyone within the sphere's radius receives the benefit of reduced damage from the more forceful of physical blows and magical attacks.
2
Master
Champion's Ward
The caster imbues themselves with a protective energy that reduces the incoming damage from even the strongest of foes and their magical attacks.
3
Sentinel's Aura
The caster generates a sphere around themselves with a diameter of about 5 meters. Everyone within it's diameter can claim the benefits of reduced damage from attacks of noticeably strong foes.
3
Ascended
Circle of the Guardian
The caster creates a sphere of protection about 8 meters in diameter. Anyone within the sphere's radius can claim protection from damage of even the strongest of foes and their magic. Also, any damage sustained by the sphere's occupants will be reflected back to the attacker by about 50 percent.
4